Hey everybody!
Before I go any further let me say a special hello to all my new peeps!
I am humbled to have you follow me. Hugz and blog love to you all!
Today we celebrate the life and legacy of Dr. Martin Luther King, Jr. I hope you all found some time to reflect on what his efforts mean to your present day life. I believe that because we've come along way from when Dr. King first set out to get some things changed, we tend to easily forget. Yes, we've come a long way but we still have a some ways to go.
Happy Birthday Dr. King! Continue to Rest in Peace!
Next, I would like to say that I have been featured at
Black Fashion Bloggers
. This is my first feature! Yayyy! I want to thank Nika over there for doing the feature and I would be honored if you all would go over there and check it out!
Now...onto my outfit that I wore to church yesterday.
Tangerine, Lemon and Blueberry...a fruit salad and my fave...houndstooth!
I love how this outfit came together because of the vibrant colors.
The other thing I love about this outfit is that it is mostly thrifted!
The Fruity Fit:
Tangerine Blouse - Isaac Mizrahi for Target: Thrifted
Houndstooth Blouse: Thrifted
Black Maxi Skirt: Thrifted
Blueberry Handbag: Charming Charlie
Lemon Belt: Rainbow
Watch: Ashley Stewart
Random Bangles & Necklaces
Shoes: Old Mary Jane pumps from Nine West
(although you can't see them)
Thanks for stopping by
Stay fly and stay tuned!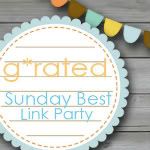 I've been partying again!